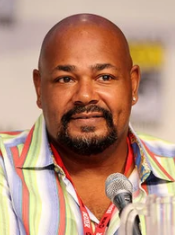 Kevin Michael Richardson (born October 25, 1964) is an American actor and voice artist, who currently stars in The Cleveland Show. He is also well known for being the voice of Tartarus in the video game Halo 2.
His credits include Captain Gantu from Lilo & Stitch, Goro in Mortal Kombat, the second voice of Skulker on Danny Phantom, Sarevok in theBaldur's Gate series, Jolee Bindo in Star Wars: Knights of the Old Republic, Crunch Bandicoot in two of the Crash Bandicoot games, Tartarus fromHalo 2, The Joker in The Batman, Ultimate Supreme Executive Chairman Drek in Ratchet & Clank, Antauri in Super Robot Monkey Team Hyperforce Go!, Openly Gator from Queer Duck, Barney Rubble from modern-day animated series and movies based upon The Flintstones, Mauricethe Aye-Aye from The Penguins of Madagascar, the unbeatable guardian of the time portal in Samurai Jack, and the voice of Exile in the late '90s cartoon Road Rovers.
He often plays characters based on and satirizing comedian Bill Cosby, such as on Family Guy (with the voice of Jerome in the 7th episode of the 8th season) and The Boondocks. He also voices Cleveland Brown, Jr. and Lester Krinklesac in The Cleveland Show.